ADT Security Systems
The ADT Pulse
---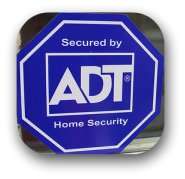 Choosing ADT Security Systems as part of your elderly medical alert notification program can lead to increased safety of your loved one and the peace of mind that comes with live video monitoring.
Their new system, called the ADT Pulse, has several features that can make monitoring you home while you are away easier and more effective than traditional security alarms.
The ADT Pulse comes with video security cameras, door sensors and even a motion detector, as well as other features that allow you to arm or disarm your system from your smart phone or any computer.
These features can be very useful in helping to monitor the activities of your elderly loved one when you are not home.
You can view the video cameras from any computer and from your phone.
There is also a function that will send an email and/or text alert when any preset event occurs.
You could program a preset event of your front door opening. The system would then send you an alert if anyone goes in or out of the front door.
Wandering is a frightening and sometimes common event with Alzheimer's and Dementia disease progression.
With this text and email video alert system, you would be notified if your elderly loved one ever left the house unplanned and that would give you the opportunity to get help right away.
It also gives you the opportunity to monitor unwanted guests in your home. Unfortunately, there are people and sometimes companies that prey on the elderly.
This system will give you the opportunity to intervene right away.


---
ADT Security Systems Pulse Features
Monitored Security System
Hub Station and Touchscreen
Thermostat
Two light control modules
Two video cameras
Two door sensors
One motion detector
The Pulse System also comes with a keychain panic button that you could apply to your elderly loved one's clothing or hang on a pendant around their neck. For a full review of all of the ADT plans, go to ADT Pulse Plans.


---
Whichever system you chose, I would encourage you to at least check into the ADT Security System, the ADT Pulse, because I believe the added advantage of having the video monitoring can put your mind at ease when you are away from home.
Imagine how nice it would be if you went to the doctor and you were delayed, and you could simply look on your phone to see how your mom was doing?
Sometimes being able to visually check on our loved one's is much more calming than "hoping" they remembered to wear their medical alert necklace or "hoping" they remember to push it if they fall.
Home Security Monitoring Review's website ranks this new security system as #1 in their Top Ten Home Security Systems.


---
Return from ADT Security Systems to Medical Alert Systems

Return from ADT Security Systems to Elder Home Care Help Home