Which Elderly Medical Alert System Is Right For You?

Review the different categories of elderly medical alert systems, from no-fee to passive monitoring, and choose the one that is right for you and your loved one.

We have all heard of the worst case scenario.

Grandma falls down the stairs late at night and can't reach a telephone to call for help. She lays there all through the night with a broken hip, in severe pain and emotional distress.

With an elderly medical alert system in place, that scenario never has to happen to someone you love.


There are three main categories of alert systems. Each has its own advantages, disadvantages and price ranges. Choosing which one is right for your unique situation can be easier when you understand the differences between all of them.

Try not to base your decision on price alone, but if cost is truly a factor, a cheaper system is better than no system at all.

Anything you can do to make sure your loved one can call for help anytime they need it is paramount to their safety and your peace of mind.
No-Fee Monitoring Systems
These systems include a base unit that plugs into your phone and an emergency button that activates a call to emergency services and in some models, up to three other contacts preprogrammed into the unit.

The emergency button can be worn around the neck, on the wrist or pinned to a piece of clothing.

Although relatively inexpensive and requiring no monthly fees, these systems have several drawbacks.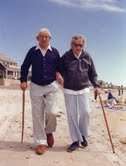 Some are very limited in the area they cover. Average ranges include anything from 50 to 600 feet.

If you live in a small house and your loved one does not venture outside, the smaller range may work for you.

But if they enjoy gardening in the backyard or strolling down the beach in front of your house, you will need to look at a system with a larger range.

Monitored Medical Alert Systems
The primary difference between a monitored elderly medical alert system and a no-fee system is that with a monitored device, when the panic button is pushed, it connects your loved one to a live, specially trained support person at the monitoring system.

That person can hear and talk to your family member and help determine what the emergency is and what resources need to be implemented immediately.

If it is a true emergency, the monitoring center will contact Emergency Medical Services first and then contact any family members, friends or neighbors on a list that you provide during set up.

There are several advantages to this type of system. Some cities charge a fee if a 911 call is issued and the situation is not really an emergency. If it is truly an emergency and your loved one is injured, the call center will stay on the phone with them until help arrives at the house.

If your elderly loved one has periods of confusion, this may be the best option for you. The staff at the call center can screen the call, notify you via telephone and avoid an unnecessary call to 911, along with the fees that can be associated with that.
Passive Monitoring for the Elderly
The most advanced system to date is one that uses passive monitoring to assure the health and safety of your loved one.

Motion detectors and sensor pads can be placed throughout the house and are monitored by the company providing the service.

These are usually the most expensive systems as well.

There is a huge advantage with this system: With most passive monitoring devices, the user does not have to wear a button or activate a "panic" button.

If you have any concerns that your elderly loved one would either forget to put on a traditional panic button, or become confused as to what to do and how to activate it, this may be the best situation for you.

It also covers another emergency. If your loved one was to have a stroke or a heart attack when you weren't present, there is a possibility they would be unable to initiate a panic call.

With a passive monitoring system, the center would be able to detect a fall or lack of movement within the house, attempt to contact your loved one and if they are unable, would immediate summon help.


---


Some of the more inexpensive systems do not have a two way calling system within the emergency button, so although you can be notified of an emergency, you will have no idea what that emergency is about.

My recommendation is that if you can afford a monitored elderly medical alert system, skip using no-fee systems. But again, if you cannot afford the monthly fees, these systems are better than nothing and can assure you that, in the case of a fall, your loved one can call for help.


---
Return from Elderly Medical Alert to Medical Alert Systems

Return from Elderly Medical Alert to Elder Home Care Help Home