Medical Alert Monitor
Points to Consider When Choosing a System
A medical alert monitor for the elderly can bring peace of mind, but there are questions you need to review before choosing a system and a company.
Medical alert monitoring may involve contracts and commitments which need to be understood completely before you buy.
When you are getting ready to review all the different companies and the various medical alert devices out there, think like a journalist and answer these questions:
Let me try and make this process easier by helping you understand different aspects of a medical alert monitor and the contracts that may be available.
Let's look at each question individually and review the possible situations you will need to think about before you purchase a medical alert monitor for your elderly loved one.
These are questions to not only ask yourself, but also every company you consider prior to committing to any one medical alert device or any one company.
WHO?
Who are you going to be monitoring?
Are you caring for just one elderly person or several? Think into the future as well.
Maybe you are just caring for mom right now, but Aunt Sarah isn't doing well either. Is there a possibility that you will, in the near future, being caring for more than one person? If so, calculate that into your cost equations.
The least expensive system for one person may end up more expensive with each additional medical alert device you have to add to your existing system.
WHAT?
What are you monitoring for?
Are you monitoring for falls? Falls cause a significant number of injuries in the elderly population each year.
If your loved one has a history of falls or is at risk for falling, you will need a system that they can activate without needing to get off the floor or to a telephone.
If you are home all the time and worry they may fall at night, a simple foam fall mat with built in alarm, bed alarms or chair alarms may work the best for you at considerable less financial expense.
Do you want to know if they leave the house or come in from the back yard? Do you want to make sure they get up every morning?
It is important to understand first of all which events you need to monitor. But it is just as important to understand the progression of most diseases that affect the elderly.
Just because mom can push a button for help today doesn't mean she will be able to in six months. Try not to get tied into a contract that is not going to meet your needs in the future.
WHERE?
Where do you need the monitoring?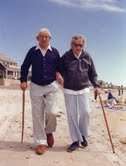 Does it need to be your entire house?
Do you need it to include your yard?
Or are you lucky enough to maybe have a beach outside your front door?
Each system has a different range and it is vitally important, if your loved one enjoys going outside and it is safe, that the medical alert monitor you choose will have a range large enough to keep them safe.
WHEN?
When do you need the medical alert monitor to start, and when do you expect it to end?
If you are only going to be caring for mom for a few months after surgery, you don't want to get tied into a 2 year contract with a company.
Are you going to want to change the monitoring system to their previous home in the future? Or maybe you will want to start it in their current home but want the ability to transfer it to your home later.
If this is the case, talk to the companies and see what flexibility they have in this situation. Some may be able to meet your needs. Others won't. It is best to know ahead of time if this is a situation you may encounter.
WHY?
Why do you want the medical alert monitor in the first place?
Really think about what you are trying to accomplish before you pick a specific unit or service. Make sure that the service you choose is going to meet your needs.
If dad is becoming forgetful and is unsteady on his feet, you don't want to be a work all day wondering if he has remembered to put the medical alert pendant on or if he remembers to push it if he falls.
In that case, if you want to be able to check in at home while you are away, look into a video monitoring system like ADT video security systems.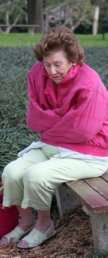 If mom has a habit of wandering, you will want a system that can alert you immediately if she leaves the house. There are even systems now that have built in GPS locators in the event she gets lost.
You may also want to look into a GPS tracking watch that will allow you to locate exactly where your loved one is at any time.
These devices can save lives, especially in areas that have extreme temperatures.
Really think about the why and make sure the system you choose is the right system for you and your family.
Costs and Contracts
Review the initial start-up or set-up costs
and
the maintenance costs of each system you are comparing.
Look into how long the contract is and what the cancellation fees are if you need to terminate the service early.
Understand that once you sign for the contract, you are usually locked in. Make sure the one you chose can meet your needs both today and tomorrow.
See if there are any "false alarm" charges from either the monitoring company or your local 911 emergency services.
I had a lady admitted to us that had a medical alert button she would push whenever she was left alone and got lonely. She simply wanted someone to talk to so she would push her button and visit with the 911 operator. It was cute and the operators knew her well, but the family also ended up getting charged a significant sum of money for these false alarms.


---
My advice would be to narrow down the companies to a manageable number and begin to compare features, prices, contracts and devices.
Choosing the right medical alert monitor for your elderly loved one is a process and shouldn't be jumped into right away.
At this time, Medicare does not cover medical alert systems for the elderly and neither do most private insurances, even with a doctor's written prescription. But don't let that deter you in asking your insurance company. There may be a few out there that will cover the expense but I am not aware of any at this time.
I would recommend choosing a system that has the ability to upgrade features in the future and that does not have a high cancellation policy.
I hope this has helped you understand what questions you need to ask yourself and any company you choose. If you have more specific questions regarding medical alert monitors, please Contact Me Directly.

It was part of my job for years to evaluate the best systems for our patients and I would enjoy being able to help you through this process.


---
Return from Medical Alert Monitor to Medical Alert Systems

Return from Medical Alert Monitor to Elder Home Care Help Home Page